JUST in time for the Holidays, Crimson Love Apparel is hitting the scene as we close out 2015. While studying Thessalonians and the armor of God, the idea was born to create clothing (jersey tanks for now) and print a hidden word on the inside of the shirt, over your heart… like a breastplate.
As you know I am a great BIG fan of Brene Brown and she writes herself permission slips and puts them in her pocket when she needs extra encouragement. Similar concept for Crimson Love, only the permission comes from our Lord and Savior, Jesus. Each tank and word is accompanied by a scripture card to give yourself permission to go through your day and: BELIEVE, have COURAGE, be FEARLESS, give yourself GRACE and to live LOVED!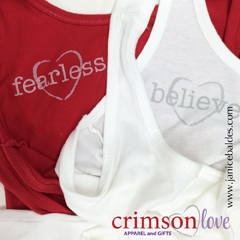 Orders placed by midnight, Sunday, December 13th, for Crimson Love Jersey Tanks will be shipped on Monday, December 21st via USPS Priority Mail.
All you need to do is head over here, and choose your color and then your size with hidden word which will be printed on the inside. Sizes run small, so I recommend ordering a size up just to be safe. To view a picture of your color and word choices, just scroll through the ETSY photos for this listing.
To thank you for flying by the seat of your pants with me and shopping in a hurry, I will be including a set of Guitar String Cross Bracelets with each order placed (see below)! In the future, shirt order time will be around 3-4 weeks as I will be making in batches.
LOVE!
Janice
PS All proceeds from the sale of Crimson Love items will be donated to Kingdom Runners Ministries!
PPS Some other new products have hit the ETSY Studio – like Hot Iron Holders!